Recipe for Grilled Polenta Crostini
Ingredients:
1 cup medium or coarse polenta or cornmeal
2 tbsp. Pecorino Romano cheese
5 cups water
2 tbsp. fresh parsley leaves, chopped
2 tbsp. unsalted butter (optional)
Sea salt
Directions:
1. Grease an 8" x 8" glass baking dish with olive oil, or spray with a non-stick cooking spray. Set aside.
2. Heat water in a large saucepan over medium-high heat until almost boiling. Once water starts to bubble, whisk in polenta or cornmeal and stir continually until it starts to thicken.
Season with salt, to taste, and stir to combine.
3. Reduce heat to just below medium and continue cooking. Stir every 4-5 minutes until the polenta pulls away from the side of the pan and the cornmeal becomes soft and tender, approximately 40-45 minutes.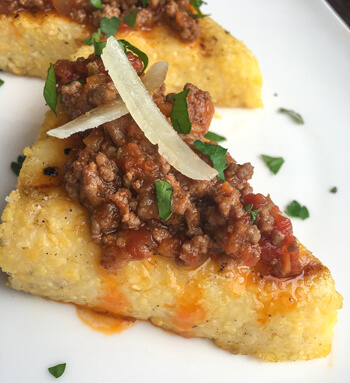 4. Remove from heat and stir in butter, if using. Taste and add more salt, if desired. Transfer polenta into prepared baking dish in a smooth, even layer.
Cover and refrigerate until polenta is firm to the touch, at least 1-2 hours.
5. Remove from refrigerator and gently loosen around the edges of the baking dish with a butter knife or thin spatula. Place a paper towel over the top of the polenta and hold it in place with your hand.
Gently turn the baking dish upside down while supporting the contents with your hand. Tap the bottom of baking dish until polenta is released.
6. Carefully transfer the solid sheet of polenta to a cutting board. Cut the polenta into quarters, then cut each quarter in half diagonally to create 8 wedges.
7. Spray a grill pan or the grates of a gas grill with non-stick cooking spray. (Clean the gas grill grates with a stiff wire brush before spraying.)
Heat grill pan over medium heat or preheat gas grill to medium.
8. Brush both sides of each polenta wedge with a little olive oil before placing on the hot surface. Grill until each wedge is golden brown and nice grill marks appear. Flip and repeat on other side.
9. Remove grilled wedges from heat and serve immediately with your favorite toppings, such as Tuscan Meat Ragù, and with some shaved Pecorino Romano cheese and chopped fresh parsley.
Additional Info:
Prep time: 10 minutes + time to chill
Cook time: 45-50 minutes
Serves: 6
Once chilled, polenta can be either grilled or fried. It can be served in place of bread or pasta or it can be layered with meat sauce and cheese. The possibilities are endless!
Enjoy this Grilled Polenta Crostini!
---
This website may contain affiliate links and we may receive compensation for purchases made through these links. This in no way affects your purchase price. More importantly, we strive to recommend products & services that will benefit you regardless of any benefit to us.