Recipe for Daikon Noodle Soup with Onions & Portobello Mushrooms
Ingredients:
4" Daikon radish root
3 small white onions (or 2 medium), sliced into long strips
8 oz. baby Portobello mushrooms, cut into thin slices
4 cups vegetable stock, preferably organic
3 tbsp. unsalted butter
3 tbsp. dry white wine
¼ cup fresh, frozen, or bottled pesto
Sea salt and black pepper
Note: This recipe can be made vegan by replacing the butter with an equal amount of olive oil.
Garnish (optional):
3 green onions, green parts only, finely sliced
Equipment:
Vegetable spiral slicer, such as the Paderno World Cuisine 3-Blade Vegetable Slicer/Spiralizer or the OXO Handheld Spiralizer.
Directions:
1. Peel the Daikon root with a potato peeler. Using the smallest blade on a spiral slicer, spiralize the root into long, thin, spaghetti-like strands.
For best results, trim the strands with kitchen scissors once they reach about 10 inches. Place trimmed strands on clean kitchen towel or paper towels to absorb excess moisture and set aside.
2. Slice off the ends of each onion and remove the papery outer layers. Cut onion in half lengthwise (from root to tip). Then cut each section across the middle to form four sections. Cut each section lengthwise into long strips.
Tip: Don't cut the onions too thin or they may burn while cooking.
3. Over medium heat, melt butter in a large cast iron or heavy-bottomed skillet with high sides. Add onions and stir until coated with butter.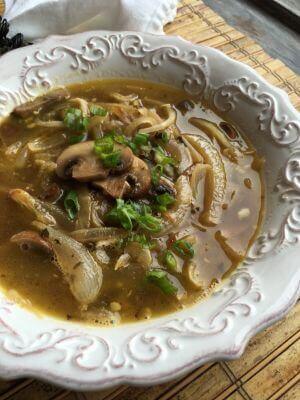 4. Cook onions over medium heat, stirring every 5 minutes or so to ensure they cook evenly and don't stick to the pan.
The cooking time will vary based on several factors, including how many onions you actually cook at the time.
5. Once the onions reach the desired depth of color, add white wine to deglaze the bottom of the pan. Add more liquid to scrape up all the brown bits, if necessary. Season with salt and black pepper, to taste.
6. Add the sliced mushrooms to the pan with the onions and sauté until tender, approximately 5 minutes.
7. Add vegetable stock and pesto to skillet and simmer over medium-low heat until heated through, about 10-15 minutes.
8. Increase heat to medium and add Daikon noodles. Cook for another 5 minutes or until warmed through. Taste and adjust seasonings, as desired.
9. Ladle soup into individual serving bowls and garnish with sliced green onion. Serve immediately.
Additional Info:
Prep time: 15 minutes
Cook time: 30+ minutes (cooking time varies)
Serves: 4-6
The Daikon root, a mild-flavored winter radish, is popular in Japanese cuisine. It is also found in many low carb, gluten free, vegetarian, and other lifestyle diet recipes.
Once difficult to find, many regular grocery stores now carry this root vegetable due to its growing popularity.
Enjoy this Daikon Noodle Soup with Onions!
---
This website may contain affiliate links and we may receive compensation for purchases made through these links. This in no way affects your purchase price. More importantly, we strive to recommend products & services that will benefit you regardless of any benefit to us.