Recipe for Cucumber Noodles with Fresh Basil Pesto
Ingredients:
4 large firm seedless cucumbers, peeled
½ cup fresh basil pesto
Sea salt and black pepper
Tip: For best results use seedless cucumbers at least 1½" thick.
Equipment: Paderno World Cuisine Tri-Blade Vegetable Spiral Slicer or OXO Spiral Vegetable Slicer
Directions: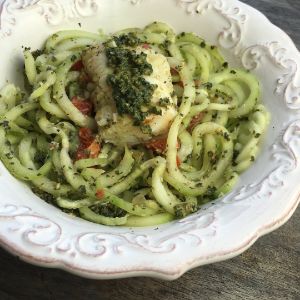 1. Prepare fresh basil pesto. Set aside.
2. Using a spiral slicer, cut cucumbers into thick, long noodles. If using the Paderno Tri-Blade Vegetable Spiral Slicer, use the medium "chipper" blade to create slightly thicker strands.
Cut the noodles with kitchen scissors once they reach 10 inches in length.
Tip: If you don't already have a spiral slicer, see the OXO Spiral Vegetable Slicer as an alternative.
3. Place cut noodles on paper or clean kitchen towels. Gently blot to absorb excess moisture.
4. Place cucumber noodles in a medium glass, ceramic, or stainless steel bowl. Top with fresh pesto and gently toss to combine. Season with salt and black pepper, to taste, and serve.
Additional Info:
Prep time: 15 minutes
Cook time: n/a
Servings: 4
This easy to prepare low-carb dish is a great way to savor the delicious, natural flavors of fresh cucumber, basil, garlic, and toasted pine nuts. Enjoy this dish on its own or top with your favorite lean protein, such as grilled chicken, for an even more satisfying meal.
Enjoy this cucumber noodles with fresh basil pesto as an alternative to a less healthy noodles dish!
---
This website may contain affiliate links and we may receive compensation for purchases made through these links. This in no way affects your purchase price. More importantly, we strive to recommend products & services that will benefit you regardless of any benefit to us.